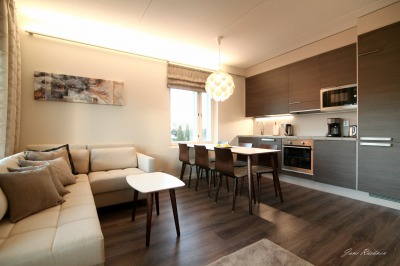 Tahko Spa Hotel - Spa & wellness, Meetings, Activities
Situated at the best location in Tahko, these recently finished Tahko Spa Hotel apartments are all about quality.
Tahko Spa is a small water park, there are also bowling and other games at the multifunctional arena. The apartments are equipped with Easybox multimedia system, which includes internet, email, Easy Office, and radio. The Easybox system allows you to play your own music and movie files.
New Tahko Spa Hotel Red Apartments
The new apartments are opened in November, 2015. The apartments are of high quality and fully furnished. All apartments have wifi.

Meetings
Tahko Spa has new functional facilities in different sizes. Tahko Spa is an excellent relaxing atmosphere for small meetings or big 1000 guests events. High-quality facilities, first-class accommodation and restaurants, as well as the wide range of activities make Tahko Spa a popular place of special events throughout the year.
Other activities
Outdoor tennis
Street Golf outdoor
Gym
Programmes to improve work ability
Fitness tests
Other fun ideas
Sumo wrestling & XXL Boxing
More information info@tahkoexperience.fi

ASK TO MAKE A RESERVATION - Tahko Spa Hotel - Spa & wellness, Meetings, Activities -
---