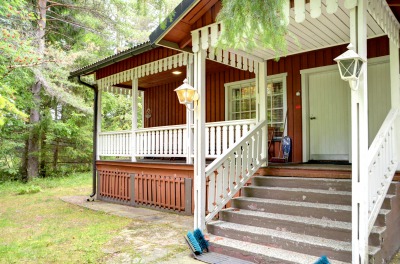 KUUSELA 7 and 8
73
.00
begin, day. Ask for an offer
These cosy holiday apartments located a very peaceful place but near Tahko. 2 bedrooms, living room, kithcen, sauna, living area with fireplace. Beds 4+ 4.
Cozy apartments in the semi-detached house, in a peaceful location yet only 2 km from the slopes. One apartment has two bedrooms and a spacious living room with a fireplace. Cozy and nice interior.
Common open porch is in front of the building, shared with apartments. In one bedroom, there are separate beds for 2, in the other bedroom one double bed.
There are two folding sofas in the living room, these are extra beds (4). If rented together these apartments, can accommodate up to 16 people
Small but practical kitchen with all needed equipments. Dining table situate in the livingroom and it's suitable max 5 or 6 person. There is also little porch next to sauna.
Distance from Tahko is about 2km and main place Loma-Rantala 700 m. Staying in Kuusela -cottages is homely and nice. Pets are wellcome, charge of pet is 30 €.
ASK FOR AN OFFER - KUUSELA 7 and 8 -
---