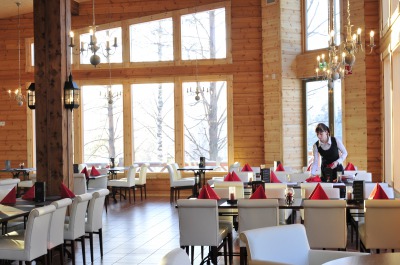 Restaurant Lakeford
Weddings, Corporate Events, House Parties ... have an amazing experience at one of Tahkos great estates. 120 seats. Situate next to Tahko Tours Holiday Village.
The restaurant was opened December 29, 2013. The project made by Finnish architects and Russian designers. Fireplace in the restaurant is made by the individual sketches of the designer. There is also a separate privatzal, or banquet hall, for special occasions, family celebrations, friendly get-togethers and business meetings.

Next to Lakeford is also orthodox chapel.
Event attendees can pre-book a table or a banquet hall for a festive dinner, as well as accommodation and activities.
Contact us info@tahkoexperience.fi or leave inquiry of the page!
All inquires are based on individual needs.
Please give as much info of your wishes as possible.
Next menu is for example Lakefords menu
MENU
Snails 12€
Garlic-herb/ Gorgonzola cheese.

Tiger Prawns 14€
Garlic-herb/ Gorgonzola cheese.

Finnish Flatbread 13€
Smoked tiger prawns, lemongrass mayonnaise.

Bouillabaisse 14€/23€
Prawns, Mussels and Lake Fish.
Starter/ Main Course

* * *

Fish Of The Day 27€
Lake Fish, Champagne sauce and Vegetables.

Steak Of The Day
Cognacbutter, Truffle Potatoes and Vegetables.

House Fish Platter 35€/pax (min. 2 pax)

* * *

Blueberry Forest 11€
Vanilla Cream, Liquorice and Spruce parfait.

White Chocolate and Gooseberry 9€

Cheeses and Pickled Autumn Apples 10€

* * *

For Kids

French Fries 8€
Meatballs/Sausages

Kids Pizza 9€
Ham/ Mince


ASK FOR AN OFFER - Restaurant Lakeford -
---
products